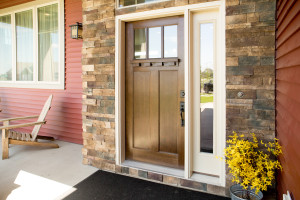 The sound of leaves crunching underfoot and a chill in the air is Mother Nature's signal that the holidays are coming. Has your "Honey-Do," list reached an unreasonable length yet with indoor AND outdoor projects?
Prioritizing can be a snap if you think top to bottom. Outside gets top priority because those of us who've been through more than one Midwest winter knows that the middle of October is borrowed time. "I hear it might freeze tomorrow night…" is now included in our daily greetings.
Below, a suggested list, in case you didn't have enough to do. Prioritized from the top to bottom, outside to inside:
Gutters and chimney. Are the gutters clear of debris? Is the flashing on the chimney in good repair and the flue clean? Be sure to perform this job with two people. One on the ground, stabilizing the ladder and one on the roof, doing all the work.
Weather strip and caulk. Check your windows and doors to be sure the weather stripping is tight and that any small gaps are caulked. If weather stripping is deteriorating, it can be replaced easily. Important to your energy bill and to the life of your doors and windows!
Windows. If possible, give them one last clean so that you can enjoy the view from inside and thereby minimize the effects of cabin fever. Save this for a cloudy day so you're able to find streaks and wipe them away.
Bushes and foundation. After you've raked the lawn one last time, trim the hedges and bushes surrounding the house, looking for cracks or holes in the foundation where rodents might consider entering. Seal gaps that are larger than a nickel with expanding foam. We used, "Great Stuff," on our house this year. We recommend using gloves with this product!
Bird feeders and garden prep. The last of the garden vegetables need to come in and the birds will need a refill on their feeders. Winter is especially hard on wildlife so make sure your seed is handy and that the feeders are clean. A little vinegar and hot water will take care of the feeders without harming the birds. Just rinse them well and dry them out before replenishing them.
Smoke and carbon monoxide detectors. This is the perfect time of year, when we're heating our homes, to ensure that your carbon monoxide detectors are working properly. While you're at it, check your smoke detector batteries as well. These tests should be performed every six months.
Replace filters. You should check, clean or replace your air filter, dryer vent, air conditioner, stove hood and room fans to ensure appliances are running properly and to keep energy costs down.
Purge a closet. There is no better time to do this than when you're about to be stuck inside for 6-9 months. Rather than re-organizing the closet, toss out what you don't need and donate items to Goodwill. You'll feel lighter and your home more spacious.
Hang your art and photos. It's nice to rotate pictures or artwork from one season to the next. Unless you haven't actually hung anything up… in which case, what are you waiting for? The middle of each picture should be hung no higher than 60″ from the ground.
Rugs, slippers and blankets. If it's cozy and soft, it's time to pull it out and have it handy. Shake out the lightweight rugs from this summer and store them away. Consider using a thicker, softer rug during the winter months and don't forget to put a pair of slippers in the mudroom. Right next to the rubber mat that will hold your winter boots!
-Holly Bayer, ASID