Exterior Columns
Exterior columns provide architectural character and style to any home. Bayer Built Woodworks offers a selection of columns, from Craftsman to Traditional styles, designed for all types of load bearing and decorative installations. Available in aluminum, these columns offer the quality and craftsmanship you have come to expect from all Bayer Built products.




---
AFCO Columns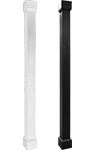 The perfect combination of stylistic design and nearly maintenance-free performance, AFCO's Aluminum Columns will draw your appreciation each time you enjoy your outdoor space. The ensile strength of the extruded staves of the AFCO Aluminum Columns provides a structural capacity far superior ro that of other load-bearing column materials. Prefinished with durable, AAMA-2604 powder coat paints and backed by a limited lifetime warranty, there is no better choice than AFCO Aluminum Columns for providing Structure to your home.

To view Bayer Built's instock inventiory of AFCO columns click here.