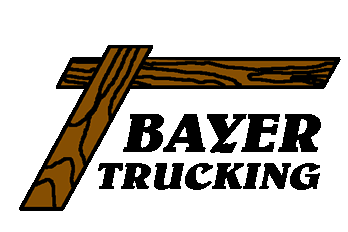 Bayer Trucking, located in Belgrade, Minnesota, began in 1923 when Grandpa Mike Bayer bought his first drayage rig, a horse drawn wagon which he used to deliver goods arriving in Elrosa, Minnesota on the Soo Line Railroad. At the end of World War II, Joe Bayer (Sr.), the youngest of Mike's 3 sons, bought the business. By this time, Bayer Trucking had expanded to hauling gravel, livestock, hay, grain, and general freight.
In 1975, Mike Bayer, one of Joe's five sons, bought the family business, continuing to operate it as a livestock and general freight company, serving the communities of Elrosa and Belgrade. In 1982, while trucking was deregulated and the agricultural economy was struggling, Mike and younger Brian ventured into the millwork distribution business, starting Bayer Built Woodworks, Inc.
Today, Bayer Trucking and Bayer Built Woodworks continue to serve lumber dealers across the upper Midwest. Bayer Built Woodworks is a 2-step millwork distributor offering next-day delivery through Bayer Trucking. Our trucking fleet consists of over 50 Kentworth tractor trailer rigs, servicing 21 daily and 16 over-the-road routes across the country each week. Much of our hauling centers on the millwork business, bringing in products from the western and mid-western states, and distributing Bayer Built Woodworks products to customers in our 8 state sales region. When our trucks are not out delivering millwork products, they are hauling brokered loads ranging from cotton to canned vegetables to four-wheelers and anything in between.