When your home improvement budget has a limit, deciding where to invest your dollars can be challenging.  A new bathroom?  A kitchen upgrade?  A finished basement?  Lucky for you, a recent research project has made your home improvement budgeting quandry a little easier.
Each year, the National Association of Realtors and Remodeling magazine join forces to analyze how home improvement jobs affect the resale price of a home.  The study focuses on 36 common remodeling projects and the impact they had on resale value in 102 United States housing markets.  Projects like, adding a master suite, remodeling the kitchen, adding a patio, etc.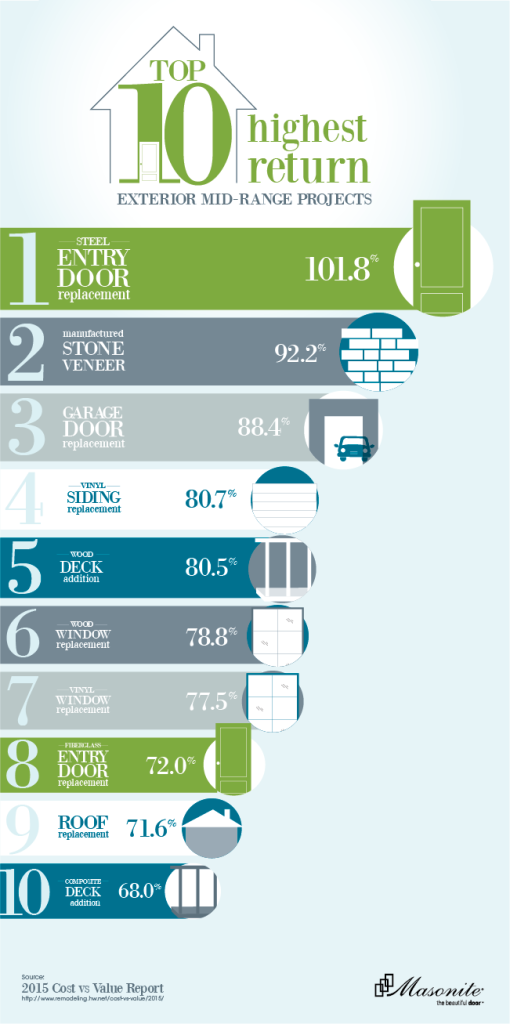 We were excited to read the results!  In all of those markets, the number one most valuable renovation was replacing the front door.  Really?  A door?  Seems like a small change.  While that may be the case, realtors across the country agree that curb appeal is king and this year's report solidifies the recommendation.  Often, the front entry gets overlooked for perceived value-adds on the interior of the home.  However, if your exterior doesn't garner interest right away, prospective buyers aren't going to bother looking at the improvements you've made inside.
We are happy to offer thousands of front doors for you to choose from; including fiberglass, steel and wood.  While steel has the most attractive price tag, it doesn't perform well in our climate and scratches and dents easily; the least favorable option for a busy family.  The smartest investment you could make would be selecting a fiberglass door, hung in our Acclimated Entry System.  The frame components in our patented system are tested to withstand the rigors of our Midwestern climate; heat, cold, wind, snow and everything in between.
Connect with one of our local lumberyard dealers to select your new front door and feel good about the value you've added to your home!
-Holly Bayer, ASID