It seems we are often worried about not having enough. Not enough time and not enough money and never enough space, "could you give me another closet?" Architect and author Sarah Susanka calls it, "the fear of too smallness." Prior to the recession this concept was evident everywhere. "Why add 10' when we could add 20'?" Little thought was given to what it would cost to heat and cool a larger space and how much more stuff we might purchase if we had one more closet to hide it in.
A good space plan starts with a list of needs. What amount(s) of space do you need in your home for which activities? Which activities need to be done near the kitchen? Which activities should be done in the garage? Which activities are private, public and where will the entertaining happen?
A good way to consider how much space you need is to measure the space you currently have and determine if it is sufficient or needs to be larger. In twelve years of designing space, I can tell you that strategically adding 6" of width to a high traffic pattern can feel as though you've added on to the entire room. Bumping out 48" along one length of a wall can make a master suite a very real possibility. Adding a pair of doors to one third of a long, narrow room can create a second, quieter place to work or read. Clearing out a closet can make the closet appear… much larger. Imagine that!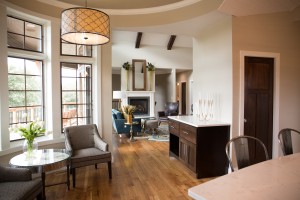 A good space plan considers the spatial adjacencies your family requires and makes realistic transitions, called traffic patterns that connect the various spaces of your home together. The result is a space plan that will function as well in three-dimensional reality as it does on paper.
Holly Bayer, ASID