By: Holly Bayer, ASID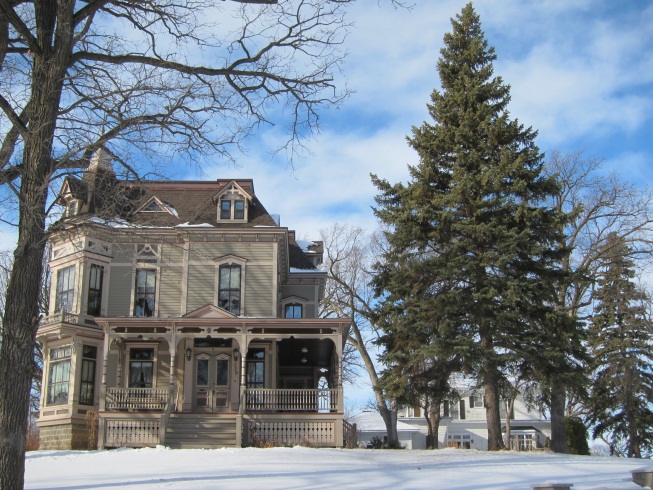 At the turn of the century, when immigrants were quickly moving west to stake their claims on rich farmland and an opportunity to make a new life in America, Minnesota lumber mills were working around the clock to produce timbers needed for new homes, big and small. The bankers, lawyers, iron, lumber and railroad barons whose travels had taken them to Europe and beyond built homes in the prevailing styles of the day.
In Duluth, Minneapolis and Saint Peter, you'll find all three of the most common Victorian homes represented. On Summit Avenue in St. Paul you'll recognize Richardson Romanesque, large and in charge. Sioux Falls will surprise you with textbook examples of Bungalow and Cape Cod cottages. Fergus Falls has a remarkable 1930's Art Deco home on lakefront, right across from the exquisite Victorian shown below. Hastings has more Second Empire mansard roofs than anywhere in the state.
What we often see in our own 21st century neighborhoods is a lack of detail, four or five homes on the same street that all look similar, aside from their paint colors and landscaping. This monotony existed in the early 1900's too. Stick style Victorian's and four square, two-story homes lined the blocks of the middle class neighborhoods and still do.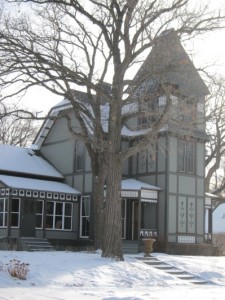 The exterior of any home, including yours, is distinguished from its neighbors by many small details that, when chosen thoughtfully, elicit style and personality. The golden rule in selecting these details is selecting one style and sticking to it, which is easier said than done!
If you have a two-story home with a front porch, you have the start of what might be a Victorian-style home. Consider shutters, gingerbread, interesting spindles for the front porch and an exterior door with three-quarter glass.
If you have a single-story home or walk-out rambler, look for inspiration from Craftsman style homes, Bungalows or mid-century Modern homes. Consider siding in earth tones, straight columns, decorative beams or braces under gables and a three-panel exterior door.
If you have a stucco finished home look at Spanish Mission styles or French Eclectic styles for inspiration. Wrought iron details on windows and the exterior door would help your home lean towards Spanish Mission. A round, planked wood door with flared eaves and narrow shutters transform a two-story stucco home into a French manor.
Get inspired and work with what you've got. As Mies van der Rohe, notable German architect once said, "God is in the details."
To help get you started, here are some of my all-time favorite house books and websites: