No matter what you are looking for in an entry door our exclusive line of exterior doors, Acclimated Entry Systems, is sure to suit your needs. Acclimated Entry Systems are a combination of premium components designed and built to meet the extreme conditions of Midwest weather. Select a beautiful wood, fiberglass, or steel door and surround it with our climate-enhanced components. The standard features within our Acclimated Entry Systems allow you to choose a custom configuration that will not only enhance the appearance, but also add value to your home. Assembled with pride by the experts at Bayer Built Woodworks, our entry systems are designed and built to withstand the rigors of an unpredictable climate.
While wood and steel doors offer a variety of options suited for the right applications, many homeowners may prefer a fiberglass entry door. Considering long-term cost, durability, and maintenance fiberglass is a practical choice for most people. Fiberglass doors stand-up to wear and tear better than steel doors, and require little to no maintenance unlike wood doors. Plus with different skin options you can still get the look of authentic wood grains. Acclimated Entry Systems offers three lines of fiberglass doors to fit any style and budget.
The Elite Series is a collection of premium luxury fiberglass doors designed with detailed panels that provide authentic wood grain patterns of Fir, Oak, Mahogany, and Cherry in traditional, craftsman, and rustic designs. These doors offer the warmth and beauty of real wood with the superior performance and maintenance-free features of fiberglass. Our Elite series doors feature engineered lumber hinge and lock stile construction to maximize stability and resist warping. With many Energy Star qualified options, there is sure to be a door to suit your needs.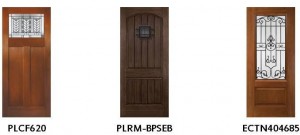 The Designer Series is our most extensive collection of fiberglass doors offered with a smooth paintable surface or an Oak textured stainable surface. Optionally, you can have the best of both worlds with Oak texture on one side and smooth on the other. Our Designer Series combines the clean lines of steel and authentic wood grain patterns of oak with all the advantages of fiberglass. With hundreds of glass styles and panel configurations, as well as many Energy Star qualified options there is sure to be a design to complement your décor.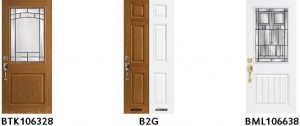 Our Select Fiberglass Series is an entry level collection of fiberglass doors. Choose from a variety of glass styles and panel configurations to find the style that best complements your home. Our Select Fiberglass Series doors feature a rot resistant bottom rail, engineered lumber hinge and lock stiles for stability, and a polyurethane foam core for thermal protection. With Energy Star qualified options and authentic Oak texture, these doors will add value and curb appeal to your home.