No matter what you are looking for in an entry door our exclusive line of exterior doors, Acclimated Entry Systems, is sure to suit your needs. Acclimated Entry Systems are a combination of premium components designed and built to meet the extreme conditions of Midwest weather. Select a beautiful wood, fiberglass, or steel door and surround it with our climate-enhanced components. The standard features within our Acclimated Entry Systems allow you to choose a custom configuration that will not only enhance the appearance, but also add value to your home. Assembled with pride by the experts at Bayer Built Woodworks, our entry systems are designed and built to withstand the rigors of an unpredictable climate.
Here is a little more on the different options available through Acclimated Entry Systems…
It is hard to match the beauty of real wood. The Nature Series is our exterior wood door collection offering a wide variety of options in Oak, Fir, and Knotty Alder. Almost all of our Nature Series wood doors feature UltraBlock® technology to protect against water wicking and rot, however, as with any wood product it will require proper care, maintenance, and a professional grade finish for lasting durability and beauty. The right application is essential to the longevity of your door, key factors in wood door performance are adequate roof overhang, minimal sun exposure, and proper sill height; be sure to take careful consideration of your application and environment before installing a wood door. Your options are limited only by your imagination, with our stock options and special order capabilities doors can be created in virtually any size, style, or species with hundreds of glass options and stained to march your personality and style.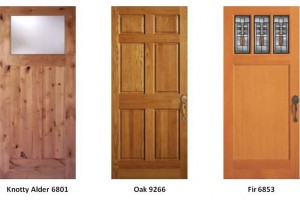 The Select Steel Series is a collection of premium steel doors with high definition panels that offer style and distinction. With many decorative and clear glass styles and shapes and several panel configurations available, our Select Steel series offers tons of options to fit the style of any home. Our Select Steel Series feature high definition 24 gauge steel, a polyurethane foam core for thermal protection and formed steel edge construction for rigidity, security, and fire protection. With a smooth surface ideal for painting, steel doors offer a cost effective, energy efficient, low maintenance option for many applications.