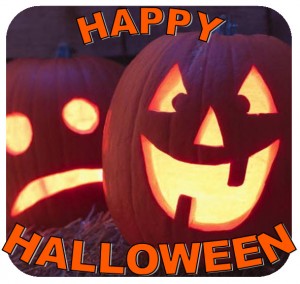 1. Candy corn has been made with the same recipe by the Jelly Belly Candy Company since around 1900.
2. The day before Halloween, October 30th, is National Candy Corn Day.
3. More than 35 million pounds of candy corn will be produced this year according to the National Confectioner's Association. That equates to nearly 9 billion pieces—enough to circle the moon nearly 21 times if laid end-to-end.
4. Samhainophobia is the fear of Halloween.
5. Jack-o-lanterns are an Irish tradition. In Ireland, oversized rutabagas, turnips, and potatoes were hollowed-out, carved into faces and illuminated with candles to be used as lanterns during Halloween celebrations.
6. The Guinness Book of World Records' largest jack o'lantern was recording in October 2010 in Bronx, New York by Scott Cully. The jack o'lantern weighed 1,810.50 pounds.
7. The first mass-produced Halloween costumes appeared in stores in the 1930s when trick-or-treating was becoming popular in the United States.
8. Chocolate makes up about three-quarters of a trick-or-treater's loot, according to the National Confectioners Association.
9. Both Salem, Massachusetts, and Anoka, Minnesota, are the self-proclaimed Halloween capitals of the world.
10. According to the National Confectioner's Association, 41% adults admit that they sneak sweets from their own candy bowl and 90% of parents admit to sneaking goodies from their kids' Halloween trick-or-treat bags.