By: Pat Thieschafer, Sales Representative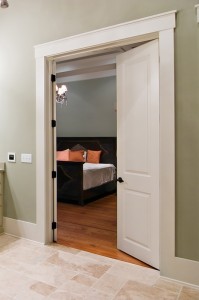 Today's topic is regarding door and window toppers for the interior of any home. Toppers are a build-up of moulding components used above doors and windows which can significantly and economically improve the overall appearance of the interior millwork in a home. When added to a standard height door, toppers can give the feel of a taller door without the expense of a non-standard size door. In a home with 9' and 10' ceilings, toppers might be something to consider above both doors and windows to give a more massive look which can be more proportionate to the room size.
Bayer Built has established five standard topper styles with varying sized mouldings to fit most architectural styles and varying room sizes. You may choose to use a larger size topper in open areas like kitchens, family rooms, and dining areas; while something smaller may be a better fit for bathrooms and bedrooms. These five styles are also available in five standard species (Oak, Poplar, Knotty Alder, Maple and Cherry), however we welcome inquiries for any style or species you may be looking for.
Given just a few dimensions and casing selection, Bayer Built Woodworks can supply door and window toppers pre-assembled, where very little effort is required on site for the carpenter. This is especially important when considering pre-finished millwork. The Bayer Built Team can assemble and stain the toppers prior to delivery. This results is a superior finished product, reasonably priced, and ready for simple installation.
Check out www.bayerbuilt.com for further information and photos of projects where toppers have been used.