By: Jill Wuertz, Product Manager
In the Disney movie Shrek, Shrek explained that ogres are complex individuals, like onions with layers. Each layer a different part of his overall character. He went on to enlighten Donkey that there is more to ogres than people think. Who is your favorite character from a recent book or movie? Think about them. What made them so memorable or interesting? Was it the fact that they looked and acted like everyone else? Or was is that they were specific and deliberate about everything they said or did?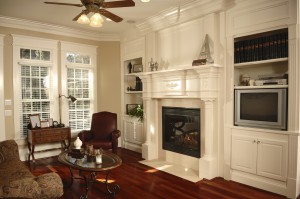 Think about your home in terms of its character. How is it different than the house next door? What makes it feel like your home? What makes it memorable? Or if you are trying to sell your home what would make a potential buyer want it verses a home down the road?
Adding pieces or layers to a room, the main floor or to the exterior will shape your home's character. The beige walls are screaming for a customized piece of art, the tired carpeting wants to be replaced with hand scraped hardwood floors, the plain-Jane front door needs to be more welcoming and the lonely ceiling is begging for elegant crown moulding.
The choices you make will not only help to personalize your space, making it more memorable and warm, but also help increase the overall value of your home. Think about how you can help establish or build character in your home?