By: Holly Bayer, ASID
At the end of any organizing job, the last step is to close it up. You might close the lid, or the drawer or a pair of solid, wood doors. And with that final step your eyes no longer see clutter. Better yet, your brain doesn't think mess. Because behind those doors is an organized haven. You can relax and move on to more enjoyable tasks. Your room has a fresh, new feel to it and you might feel compelled to repeat the process in another space. But wait…
What if you haven't got a really lovely pair of closet doors? They're a simple upgrade! In fact, there are many attractive options that can be ordered to fit virtually any size opening.
Louvered wood doors add a sense of style and ventilation. A pair of paneled, enamel doors to match the trim creates a finished look.
In our closet makeover, I designed the closet to be visually interesting and open because it's located in my studio. We need to be able to grab reference materials, product pages and samples quickly. It was important to have a combination of closed storage in the form of drawers and unique baskets, but also shelves where I could display pieces that would inspire and offer a jolt of color.
If I later elect to close the door on this space, I'll opt for enameled, paneled, bi-folds to match the molded six panel doors in the rest of my home. It would be in keeping with the Cape Cod style of my 40's home.
What would be ideal on your closet? Take a look around the rest of your home and determine the overriding style of your existing doors and millwork. Match it up to one of the Architectural Styles on our Inspiration Page and head out to the lumberyard to order up a beautiful pair of doors… which you can now happily close on a well-organized closet!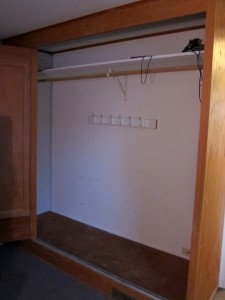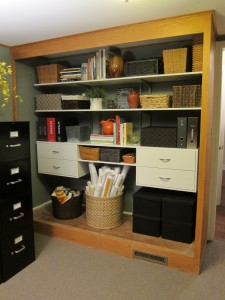 For a complete recap of our closet makeover see our other blog posts:
2. Which closet system is right for you?