By: Holly Bayer, Interior Designer, ASID
It may not be too late to take a short road trip with the kids.  At our house, summer isn't over until the first day of school and that's still weeks away.  Instead of a mind numbing trip East to the water parks of yesteryear, why not hop in the car for a long weekend to see what you can see?  The Midwest in the summer is beautiful; great grassy fields that stretch on forever, fire flies, and incredible sunsets.  Combine that with a slice of homemade pie from a local greasy spoon and you're on your way to inexpensive good times with your family.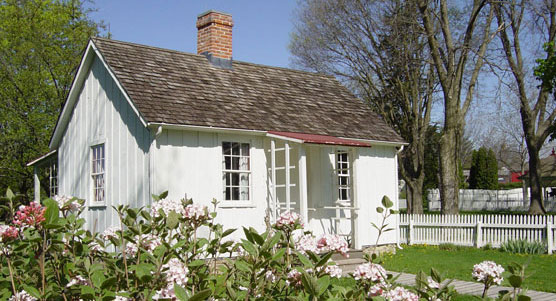 Of course, along the route, I hope you'll stop in at one of the many historic homes that dot our landscape.  Back in the day, our United States presidents were still one of the people.  They lived amongst their constituents before and after their time in the White House.  Herbert Hoover, our 31st, began his life in West Branch, Iowa in very humble beginnings.  Why not tour his childhood home and the grounds he played on and around as a young boy?  It would be a lovely teaching point with the kids… "these are the chores kids your age used to be responsible for." (For information on Herbert Hoover's home visit the Hebert Hoover National Historic Site website)
If you're up for a longer drive, steer the car in the direction of Illinois and check out the home of Abraham Lincoln at the corner of Eighth and Jackson.  This is an elegant example of what the Greek Revival style looked like in the 1860's and where it is said that his social and political beliefs were formed as a husband and father. (For information on Abraham Lincoln's home visit the Lincoln Home National Historic Site web)
Hastings, Red Wing, and Stillwater are quicker trips with amazing homes, food, and history.  Hastings is often overlooked but has a wild variety of architectural gems with hand hewn millwork and rooms that will take you back in time to when quality was important, craftsmanship was treasured, and time together was something we did every day rather than a few weeks out of the year.
For other great site and more information, hop on Google and do a search for, "historic homes of…(your state)".
What historic homes are in your area?