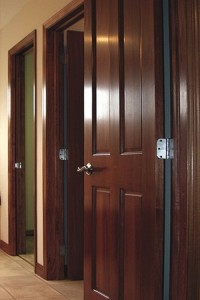 By Jill Wuertz, Bayer Built Woodworks Product Manager
Poplar is like any great player in baseball's minor leagues. When given the chance or opportunity to be called up to the big league, they have the ability to stand out, really come through for the team and gain momentum with fans.
While Poplar is a common and readily available species, it is not always on the top of most homeowners' minds. Although, the flexibility of this species has a long-standing fan base with skilled pre-finishers and woodworkers. Generally thought of as a paint grade species, when finished properly with a multi-step stain process Poplar can emulate any of the finer woods available. The much admired character and warmth of Cherry can be replicated with Poplar when a multi-step stain process is utilized to create a consistent and rich finish.
The depth and width of Bayer Built Woodworks' Poplar offering has been consistently expanding. Stair parts, mouldings, and interior door lines all offer a variety of styles and parts available in Poplar. Recently, we also added a 2 Panel Square Top Poplar to our interior panel door line, for details on this door see our product detail page.