By: Holly Bayer, Interior Designer, ASID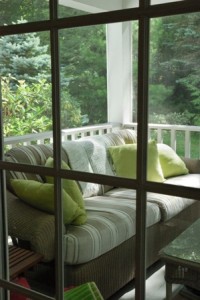 Once disregarded as impossibility in our buggy Midwestern atmosphere, outdoor spaces are getting a second round of consideration.  Why, you might ask, would one subject herself to one more dreaded mosquito when she could be indoors on the sofa?
Because a big part of life is missed from the sofa.  Haven't you heard?
There are birds, a good breeze and at dusk, stars!  Add one cool beverage and it's better than anything reality TV can offer.  You might even attract the neighbors for lively debate or a card game.
If a protected outdoor experience is what you're after and a simple stone patio or engineered deck won't do, you're in luck.  With the advent of retractable screens and the nostalgic sound of screen doors slamming all around you, it's safe to move out of your living room.
In my own backyard is a couple who has repositioned the family room TV outside within a protected alcove of the screen porch so that baseball games can be enjoyed within a few feet of the bonfire.  While I'd rather enjoy the sound of kids playing Kick-the-Can, it's hard to resist walking over to their yard to say hello.
About 61 years ago, that's where everyone was.  Out front, and sometimes out back, catching up on the days' events and connecting with each other after a long day of work.  With the birth of television, we went inside and plunked ourselves down, rarely to return to our yards or each other.
If what it takes is a high quality screen door, then slide on your flip flops because you're in luck.  We've just launched a storm and screen door which will not only close quietly, but will last almost forever.  You're left with no excuses… get out, say hello to those next door and enjoy summer!
It won't last long, ya' know.